SCHESCH BESCH - SYNONYM FOR CAUCASIAN AND ORIENTAL DIVERSITY
SCHESCH BESCH is an oriental restaurant in the center of a modern European metropolis which unites Caucasian and Oriental lifestyle with contemporary elegance. SCHESCH BESCH is situated in the heart of Vienna - in immediate vicinity of the Opera, the St. Stephen's Cathedral as well as many interesting sights, attractions and museums.
The oriental restaurant SCHESCH BESCH is a place that combines cuisine and relaxation - a meeting place for people who attach importance to a good service, to quality food and a welcoming and home atmosphere. Without doubt SCHESCH BESCH enriches the city with its Caucasian and oriental ambience.
Oriental restaurant SCHESCH BESCH - the name
SCHESCH BESCH - also known as backgammon - is one of the oldest board games in the world. It is a game played by two players whereby playing pieces are moved according to the roll of dice. In order to win this game one has to remove all of his/her pieces from the board before his/her opponent does. Backgammon is a very famous game played by just anyone in the Caucasus and the Middle East. It has become customary to name the dice rolls by their Persian and Azeri numbers: Schesch which is Persian and stands for the number six and Besch which is Azeri and means five from which SCHESCH BESCH took its name from.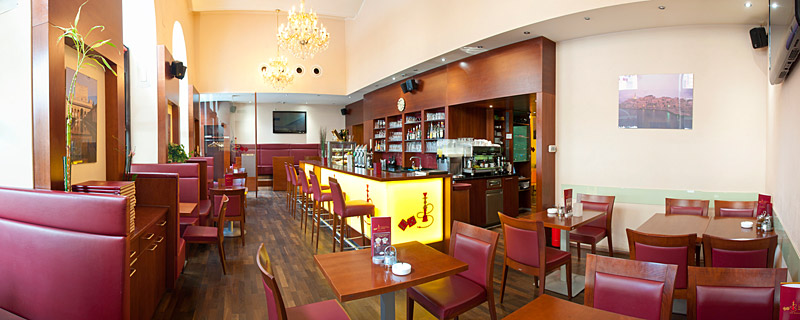 Oriental restaurant SCHESCH BESCH - our philosophy
Our aim is to create a place that connects people not only for good food and drinks but also where people from different cultures and traditions come together and exchange livelihoods.
SCHESCH BESCH combines the traditions of Orient with modern and elegant rooms while offering you an authentic Caucasian atmosphere with Middle Eastern flair.
CAFÉ, BAR, and Oriental restaurant SCHESCH BESCH
The oriental restaurant SCHESCH BESCH spoils you with both its culinary delicacies from various countries and its hospitality and generosity for which the Caucasus, North Africa and the Middle East are known for.
Our cuisine mixes dishes from different Caucasian, North African and Middle Eastern countries. The cuisine of the Caucasus includes amongst others the traditional cuisine of Azerbaijan, Armenia, Georgia and South-Russia. Our cuisine at SCHESCH BESCH is also heavily influenced by the cuisine of the various countries of the Middle East. The cuisine of the region is diverse yet maintains a degree of homogeneity. It includes Arab cuisine, Persian cuisine, Israeli cuisine and even Turkish cuisine. Some commonly used ingredients are olives, chickpeas and sesame paste. Parsley, mint and coriander are commonly used in both cooking and salads. Many of our specialties like Humus, Falafel, Baba Ganush, grilled Halloumi, Shuarma are amongst other dishes featured in the cuisine of the Caucasus region and the Middle East.
SCHESCH BESCH offers a wide variety of grilled meats that come with different spices and regional styles. Yet SCHESCH BESCH is also vegetarian friendly restaurant: at SCHESCH BESCH vegetables are boiled, stewed, grilled, stuffed and cooked.


Our cuisine offers dishes the whole day taking different lifestyle into considerations. Our varied selection of regional wines completes our offerings.
The oriental restaurant SCHESCH BESCH ensures the highest standard of quality and freshness while taking use of traditional and modern preparations.
During lunchtime we offer in addition to our regular menu, a lunch menu, which consists of a soup and a main dish.
Oriental restaurant SCHESCH BESCH - the location for events
In addition to the latest technology – well equipped rooms (free high-speed wireless internet access, DVD player, plasma TV, hi-fi equipment, dimmed lighting) SCHESCH BESCH offers a unique framework for a variety of events.
Type of use: seated dinner, cocktail reception, business meetings, private parties, celebrations of all kinds, travel groups, transmission of various sport events (soccer, boxing, Super Bowl). With its three spacious rooms oriental restaurant SCHESCH BESCH offers capacity for 110 people (seated) or 150 people for receptions. During the spring and summer time there is a sidewalk café - the so called Schanigarten - with additional 60 seats at your disposal.
If you are planning an event – a private party, a community celebration, a remembrance or any other imaginable reason to meet at SCHESCH BESCH – we would love you to think of us. Upon request you can rent one of the three rooms at SHESCH BESCH for any event with a capacity of a 150 people. Please contact us directly and we are happy to provide you with more information.
Some events are big celebrations, while others are private in nature and take place in circle of friends and relatives. SCHESCH BESCH offers for both occasions the framework and the idea, but only one service: the best.
Oriental restaurant SCHESCH BESCH - as a Shisha lounge
Roll the dice, make your move, enjoy smoking a shisha and discuss the latest news with your friends, family or strangers in a cozy, warm and homey atmosphere.